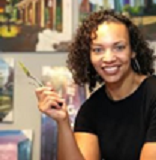 Lauren Luna was born in Columbus, Ohio.  After graduating from Kent State University's School of Fine Arts with a focus in painting, she moved to New York City.  It was there where she developed her love of big city life, though quickly learning the hardships of being a young artist.
In 2011, Luna relocated to Houston, Texas, where she believed there was more opportunity for professional artists. There she began to pursue her new life as a full time artist and footwear designer. Luna became a member of the Fashion Footwear Association of New York (FFANY) and has participated in numerous art shows locally, such as Houston Press' Artopia, Midtown Art in the Park, and Bayou City Arts Festival.
Recently Luna has had her work hang in the Mayor of Houston's office, has been juried into a show through the Museum of Fine Arts Houston, and will soon have her paintings in scenes from an upcoming film. She continues to spread her knowledge while inspiring future generations as an elementary art teacher and adjunct art professor at Alvin Community College.