SUPPORT YOUR LOCAL ARTS COMMUNITY
Bisong Art Gallery, founded in 2012, has served the community in exhibiting local and national emerging to mid-career artists. Each exhibition strives to evoke thought and imagination within the audience.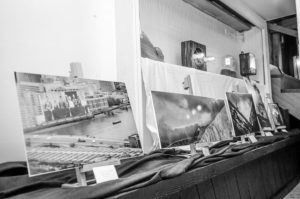 In the wake of Hurricane Harvey, many artist studios and their organizations have had to close their doors. We were fortunate enough to survive the gallery flooding and rebuild. Your contributions will help ensure one of Houston's art hubs can continue to be the platform for connecting artist with art lovers.
Exhibition sponsorship is a wonderful way for your organization to reach new audiences while demonstrating support for the arts and culture of Houston.
Contact us at (713) 498-3015 or carla@bisonggallery.com for more information.
Each exhibition sponsorship package is customized depending on your organization's sponsorship level, preferred recognition, and promotional goals.

Platinum Level Sponsorship Package
• Your organization will have a VIP viewing of the exhibition before it is open to the public
• Recognition on Bisong Art Gallery' s website
• Social media acknowledgment of your sponsorship
• Logo credit in exhibition and program materials
• One artwork from the exhibition
• Use of the gallery for a private event for up to 80 people (workshop benefiting your employees or clients, team building painting party, product launch, holiday party, etc.)
• Custom art services (contact us at carla@bisonggallery.com or (713) 498-3015 for more details.)
$5,000
SELECT THIS PACKAGE
Gold Level Sponsorship Package
• Your organization will have a VIP viewing of the exhibition before it is open to the public
• Recognition on Bisong Art Gallery's website
• Social media acknowledgment of your sponsorship
• Logo credit in exhibition and program materials
• Use of the gallery for a private event for up to 80 people (workshop benefiting your employees or clients, team building painting party, product launch, holiday party, etc.)
$2,500
SELECT THIS PACKAGE
Silver Level Sponsorship Package
• Your organization will have a VIP viewing of the exhibition before it is open to the public
• Recognition on Bisong Art Gallery' s website
• Social media acknowledgment of your sponsorship
• Logo credit in exhibition and program materials
$1,000
SELECT THIS PACKAGE
Bronze Level Sponsorship Package
• Your organization will have a VIP viewing of the exhibition before it is open to the public
• Recognition on Bisong Art Gallery' s website
• Social media acknowledgment of your sponsorship
$500
SELECT THIS PACKAGE