You Are Invited To An Evening Of Visual Artistry & Elegance!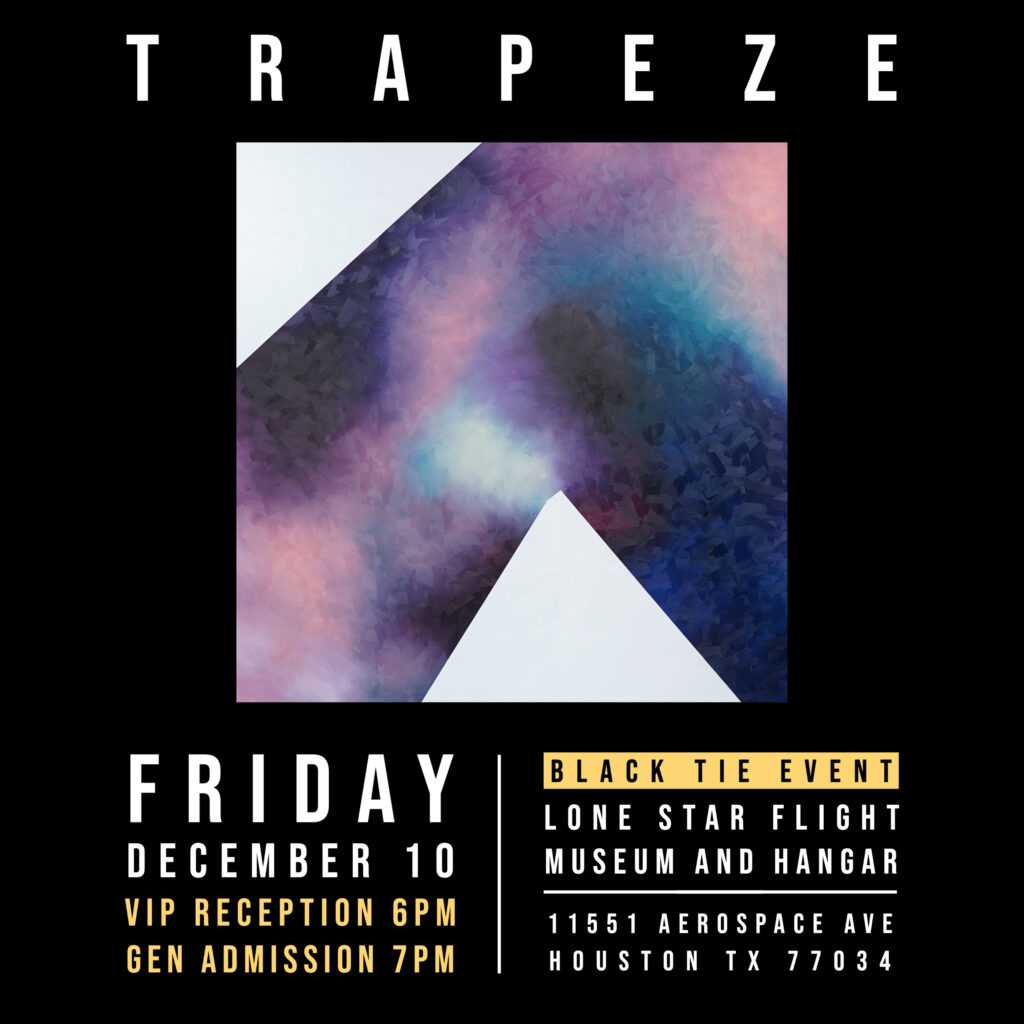 Date: Friday, December 10, 2021
Location: Lone Star Flight Museum & Hangar
11551 Aerospace Ave, Houston TX 77034
Attire: Black Tie
VIP Reception: 6pm CST
GA Doors Open: 7pm CST
Musical Performance by Sugar Joiko and Band
Master Of Ceremonies: Wynter Patterson From the Own Network: Ready To Love
Trapeze is a vision that has been in the very fiber of Wayne J. Bell's being since he was 11 years old.
Trapeze defines the concept of creating a visual experience free and unencumbered by weight and even volume.
Trapeze is the first visual art exhibit that will combine height, suspension and aerodynamics thereby creating the perfect marriage of aviation and fine art.
Something that until now, has not been exhibited. This exhibit will be presented in multiple cities, nationally and internationally.
For me, Trapeze is more than the artwork. It's a way of life, its transition, its faith, its hope and courage.
Trapeze is about an evolution and elevation of the human spirit. Every aesthetic element of this exhibition serves a specific and deliberate purpose.
The evening is to use the art to celebrate the moments in life where our own "true colors" come alive.
The works presented at a height are symbols of conquering fear and oneself.
The mirrors are the application medium that present the viewer with a reflection of color in an altered reality.
This occasion will serve as a journey within and up. I hope that everyone present will leave with something they newly discovered within themselves.
Also participating in Trapeze:
Input Output is a creative media lab comprised of Billy Baccam and Alex Ramos. They bring inanimate structures and spaces to life by combining art, science, technology, and architecture with the creative implementation of light and sound. Each bring innovative approaches along with unique human experiences that shape their artistic process. Together, they research, design, and develop immersive, digital-physical experiences that challenge the ideas of what reality is and what reality can be in the future.