The Dream | February 23, 2019
1305 Sterrett St, Houston, Texas 77002 | 6-9 PM
Lauren Luna, a noted Houston artist, is raising awareness in the lack of representation amongst young artists of color in the Fine Arts academic programs. On February 23, 2019, Lauren Luna will be collaborating with local industry professionals to produce an art show entitled The Dream. This extraordinary event will showcase talented local artists and talent. A portion of proceeds will benefit young artists entering the academic realm of Fine Arts.
Our project goal is to provide an evening of art, socialization, and enjoyment while giving back to the community.
If you have any questions you may contact: Lauren Luna at 832.713.7217 or lauren@artistaluna.com.
---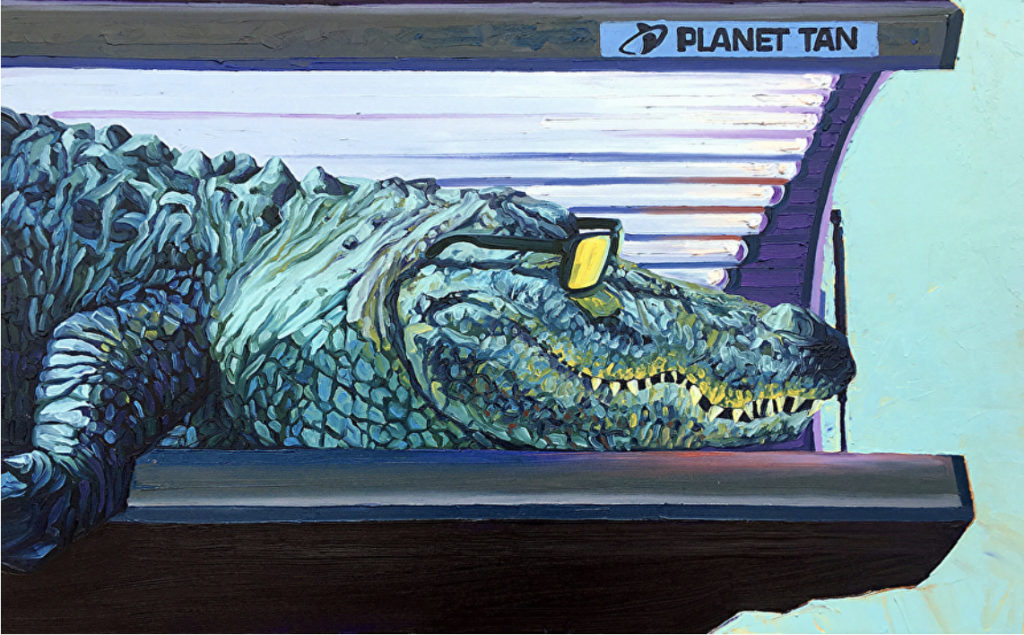 Wild Things | Artwork by Mark Nesmith
March 23 – April 20
5 – 8 PM for opening reception and artist talk
1305 Sterrett St, Houston, Texas 77002
Mark Nesmith spent his childhood days outside roaming the woods, bayous, and beaches of Texas. This emotional attachment to the wilderness of his youth forms the foundation for his vibrant and expressive artwork. Mark's paintings are an amalgam of observation, memory, and imagination. Two themes dominate his work: the innate beauty of nature and the folly of modern man. Often populated by wildlife personifying human traits, these somewhat whimsical tall tales reflect his unease with mankind's relationship to the environment and tackle subjects ranging from war and peace to consumerism and our society's growing reliance on modern technology and media.
Inspired by observations of people he meets in daily life and his years spent teaching public school, Mark uses anthropomorphism to create visually appealing narratives. Delivered with a dose of humor, his artwork exposes and criticizes the foibles and foolishness of modern society. Through laughter he seeks the truth. As Eric Idle of Monty Python fame says, "If anything can survive the probe of humor it is clearly of value, and conversely all groups who claim immunity from laughter are claiming special privileges which should not be granted."
Mark Nesmith's paintings and drawings have been included in exhibitions at the Art Museum of Southeast Texas, the Museum of East Texas, the Dishman Art Museum, the Museum of the Gulf Coast, the Texas Artists Museum, and the Mesquite Arts Center. He has shown work in solo and group exhibitions in galleries throughout the United States and has appeared in American Art Collector Magazine, Art Reveal Magazine, the Austin Chronicle, the Dallas Observer, Empty Easel, Issue, the Lamar University Press, The Local Magazine, Off Ramp Magazine, Professional Artist Magazine, and VIP Magazine, and more. Mark's paintings are included in private and public collections in more than twenty states throughout the U.S.A., and overseas in Singapore. Notable collections include the Dishman Art Museum, Duke University, Grant Thornton LLP in Dallas, TX, Kansas City, MO, and Wichita, KS, The Honorable Ron Clark, Chief Judge U.S. District Court for the Eastern District of Texas, and the Lone Survivor Foundation. He is represented by Dab Art in Ventura, CA and exhibits with Davis Gallery in Austin, TX and Third Coast Gallery in Galveston. Mark is currently the President of the Texas Artists Museum in Port Arthur.
DON'T MISS OUT!
Here you'll find information about new events and exhibits hosted by Bisong Art Gallery. To stay current on new or upcoming events, sign up for our newsletter.