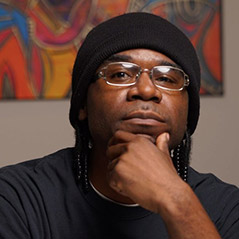 Craig Carter (Craig C Tha Artist)
Growing up on the S.W. side of Houston in an area called Alief there wasn't a lot of positive options but creating art let me escape my surroundings, only if was for a while.
Watching hip-hop movies such as Beat Street really inspired me to pick up the pencil and start drawing. It was something about the use of the colors and shapes that the graffiti writer named "RAMO" used really intrigued me as a young kid. Over time with a lot of practice, trial and error I perfected my "style".
I specialize in creating paintings and murals for people to enjoy.
(info from voyagehouston.com interview)