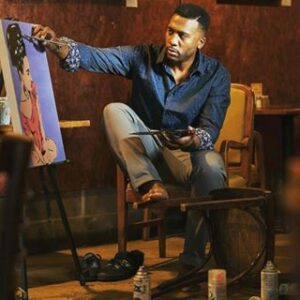 John Whaley, Jr.
Visual Artist, John Whaley, Jr. is a native of Lake Charles, La. He currently resides in Houston Tx while creating paintings, photos, and mixed media artworks. His works often refers to pop and mass culture, creating a world of unity through color. ​
John is a US Navy veteran in the US Navy Reserve. He also graduated from American Intercontinental University as a Business Major. Over the course of his career, he has participated in numerous group shows, many benefitting charity. His current projects are aimed toward community engagement, homeless veterans, raising funds for curable diseases.​
His art is mostly inspired by music and current events in life. The items used to create the art are reclaimed materials found anywhere around you. All materials used are of the highest quality and durable.​
"I like to think of my work similar to a favorite movie. As the story line develops there are parts that sparks joy, suspense, laughter. As I create I try to imagine what would make someone feel the same as I do."