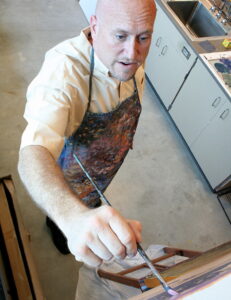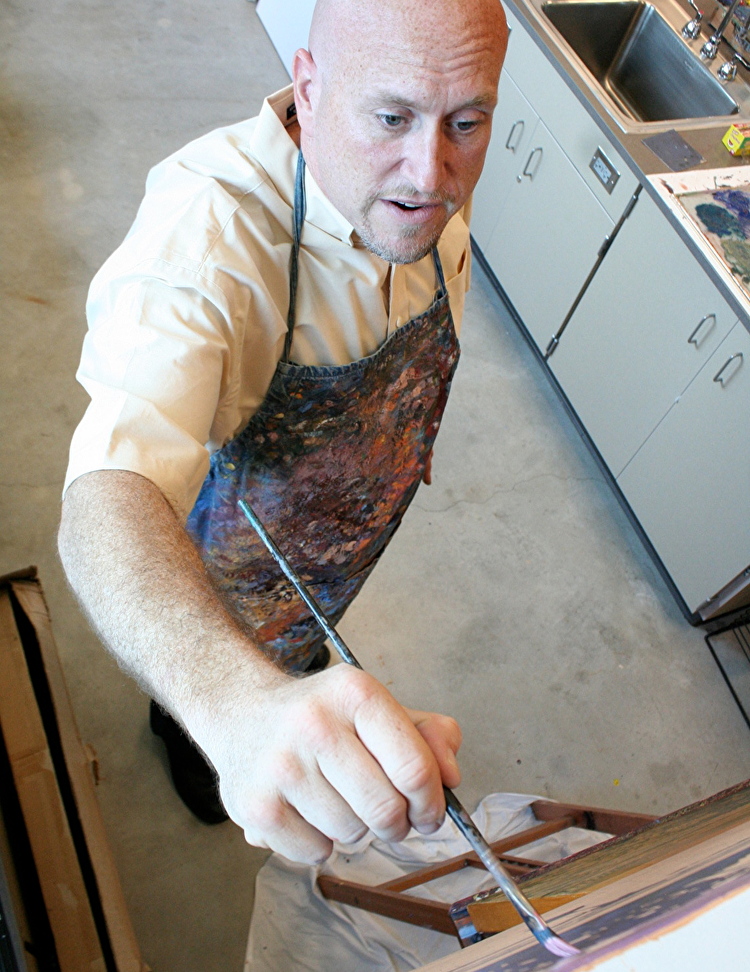 Mark Nesmith
Mark Nesmith is a modern American painter and musician who lives and works in Southeast Texas. Mark studied art at Lamar University in Beaumont, TX earning his BFA in 1998, and also
studied painting and drawing at the University of North Texas in Denton. He teaches art in the Port Neches-Groves ISD and previously taught art and music in the Dallas ISD and the Goose Creek
CISD. As a musician Mark performed hundreds of shows around the country with the bands Hackberry Road and Lone Star Republic, and still performs regularly throughout Texas. He has written about art for Ezine Articles and Empty Easel, and authored the blog Paint Daily Texas. Mark is a member of the Artists of Texas and Contemporary Fine Artists International. He is represented by Dab Art in Las Angeles, CA and Bisong Art Gallery in Houston, TX. His paintings are available
worldwide through French based Singulart and on Artsy through Dab Art. Prints of his work are also licensed worldwide by iCanvas. Mark is currently the President of the Texas Artists Museum in PortArthur.
Mark Nesmith's paintings and drawings have been included in exhibitions at the Longview
Museum of Fine Art, the Art Museum of Southeast Texas, the Museum of East Texas, the Dishman Art Museum, the Museum of the Gulf Coast, the Texas Artists Museum, and the Mesquite Arts Center. He has shown work in solo and group exhibitions in galleries throughout the United States and has appeared in American Art Collector Magazine, Art Reveal Magazine (Finland), Peripheral ARTeries (England), the Austin Chronicle, the Dallas Observer, Empty Easel, Issue, the Lamar University Press, The Local Magazine, Off Ramp Magazine, Professional Artist Magazine, Shapes and Colors (Canada), VIP Magazine, and more. In 2022 Mark was featured on the syndicated television series Texas Country Reporter. Mark's paintings are included in private and public collections in thirty-two states throughout the U.S.A., and overseas in Singapore. Notable collections include the Longview Museum of Fine Art, the Dishman Art Museum, Duke University, Verabank, Grant Thornton LLP in Dallas, TX, Kansas City, MO, and Wichita, KS, The Honorable Ron Clark, Chief Judge U.S. District Court for the Eastern District of Texas, Verabank, and the Lone Survivor Foundation.