Artist Talk and Special Remarks from Commissioner Rodney Ellis
March 22, 2021 @ 5:00 pm

-

7:00 pm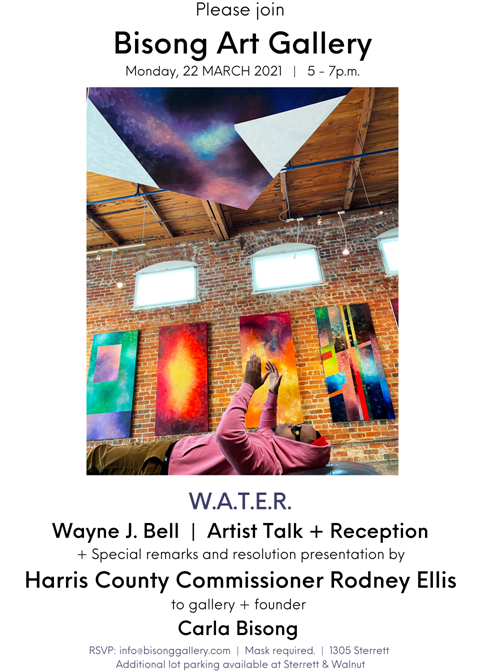 Bisong Art Gallery artist talk to feature solo exhibitor Wayne Bell and presentation of resolution to gallery by Harris County Commissioner Rodney Ellis
Houston's longest-running, Black, female-owned commercial art gallery and owner to be honored with official Harris County resolution during evening artist reception on March 22
Houston, TX— The Bisong Art Gallery, located in the Warehouse District's original Erie Ironworks Building, (1305 Sterrett Street), will present solo exhibitor Wayne Bell for an artist talk about his body of work, W.A.T.E.R.: What are the Expectations after Rebirth, on March 22, 2021, 5-7p.m. During the event, the
gallery and its founder, Carla Bisong, will be honored for longevity in and impact on the arts sector, via special presentation of a formal, official resolution by Harris County Commissioner Rodney Ellis. Commissioner Ellis will attend and make remarks.
"As the gallery celebrates its seventh year of operation, we are energized to have the opportunity to support regional artists like Wayne Bell who share Bisong Art Gallery's commitment to elevating access to the arts for all," said gallery founder Carla Bisong. "It is also a distinct honor to welcome Harris County Commissioner Rodney Ellis to our space to make remarks as he presents us with an official resolution. This is a special moment to celebrate, as we mark our time as Houston's longest-running sole proprietor of a Black, female-owned commercial art gallery, right here in Downtown Houston. Warehouse District eager to share WayneBell's artwork, as well!"
Artist Wayne Bell's color-rich, abstract oil works are grouped to allow the viewer to observe and analyze both close-up and from afar the perceptions created at first glance and in-depth, upon more extensive analysis. Distantly reminiscent of certain Mark Rothko-employed color blending and layering techniques, the artist allows the viewer to consider an initial "surface" reaction versus deeper color plays and meanings via the titles of each work. Bell will discuss the body of work and be available to take a deeper dive per work, including his standout piece "Beautiful Like Me" during his March 22 artist talk and reception.
Masks are required for entry, and all facility safeguards remain intact. Open to the public, but RSVP is strongly recommended to reserve your guest slot. To RSVP, https://www.eventbrite.com/e/artist-talk-and-special-remarks-from-commissioner-rodney-ellis-tickets-146643234863