Fine Art Dinner & Discussion: FriendsGiving
November 22, 2022 @ 6:00 pm

-

8:00 pm

$100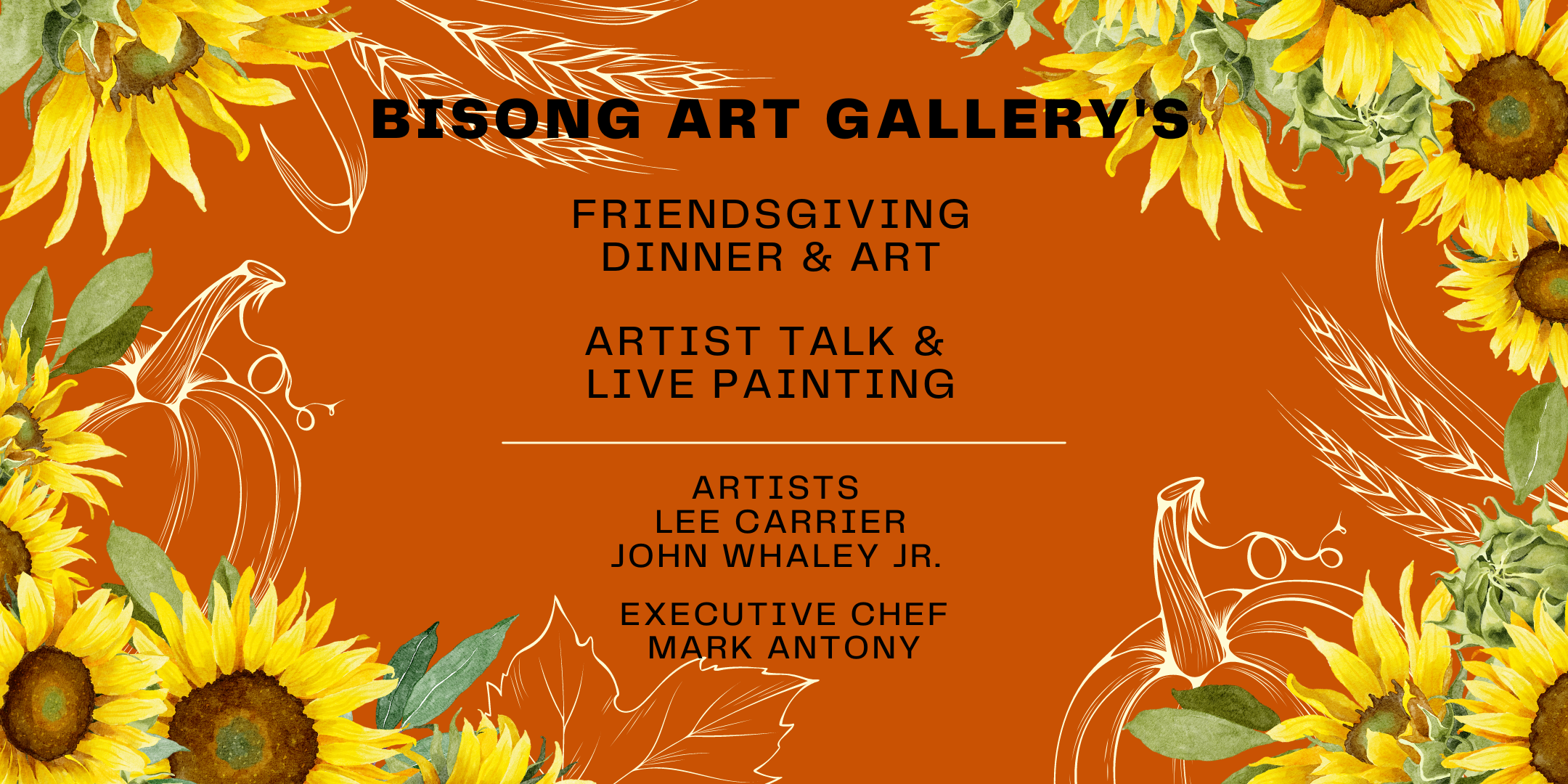 Fine Art Dinner & Discussion Is a series of Intimate fine dining experiences with artists and art lovers who support the artists community. This November Is a FriendsGiving Themed to celebrate the session and one another.
Executive Chef Mark Anthony Private Culinary Services, LLC specializes in bringing high quality culinary, and full-service event coordination for clients with discerning tastes and attention to detail. Our company focuses on providing extraordinary dining experiences.
Dinner Menu:
COURSE ONE: SALAD
SALADE LYONNAISE A LA DUCK
(Frisee and/or Escarole, extra virgin Olive Oil, Applewood Smoked Bacon or Pancetta, Shallots, Sherry Vinegar, Dijon Mustard and Poached Egg with skin-on Duck Breasts seasoned with Kosher Salt & Black Pepper, pan seared with Butter)
COURSE TWO: SOUP
BUTTERNUT SQUASH & BOURBON BISQUE
(Authentic recipe of Butternut Squash, Extra Virgin Olive Oil, Onion, Leeks, Cumin, Garlic, Ginger, Maple Syrup, Soy Sauce, Bourbon, Sherry, Nutmeg, Chicken Stock, Oat Milk, Kosher Salt & Black Pepper; garnished with Crème Fraiche, toasted pumpkin seeds & Micro Greens)
COURSE THREE: MAIN
Pecan Smoked Rosemary Rack of Lamb (Lamb Rack seasoned with Kosher Salt, Black Pepper, Rosemary, Garlic, and Olive Oil; smoked over Fig wood and natural lump Charcoal, placed in 145 degree Sous Vide bath, pan-seared in Cast Iron skillet; drizzled with a Cabernet Mint Demi Glace)
DUCK FAT ROASTED POTATO MASH
(Russet, Yukon Gold, & Red Potatoes parboiled with fresh Garlic, Kosher Salt, oven-roasted in Duck Fat, then rustic-mashed and seasoned with Black Pepper & fresh Rosemary)
HARICOT VERTS
(Fresh French Green Beans sautéed with fresh Garlic & sliced Pancetta)
COURSE FOUR: DESSERT
Pecan Sweet Potato Pie (Best of both worlds…homemade Candied Yams layered with Bourbon Pecan Pie, and baked in individual pie shells; garnished with whipped Cream, berries and mint)
Artist Lee Carrier: While getting a Master of Education Degree at the University of Houston, opportunities to publicly display her art surfaced, and as a result, She was influenced to create art for communal spaces both individually and with the students (high school and college) she taught. She showed work at the Gremillion and Co. Fine Art, Inc., the Community Artists' Collective, Lawndale Art Center, War'hous Visual Studios, East End Studio Gallery, the Art Institute of Houston, Behuman Gallery, Bisong Art Gallery, Hardy and Nance Street Studios and the University Museum at Texas Southern University and have created chalk art murals in the Houston Via Colori Street Painting Festival for the past 9 years.
As she traveled through her professional journey as an art educator and artist, it is important that she modeled lifelong learning through creativity, exhibitions and community involvement for her students.  As a teacher for the past 8 years, she experienced the many benefits of providing students with a quality fine arts education.
Artist John Whaley Jr: is a native of Lake Charles, La. He currently resides in Houston Tx while creating paintings, photos, and mixed media artworks. His works often refers to pop and mass culture, creating a world of unity through color. ​
John is a US Navy veteran in the US Navy Reserve. He also graduated from American Intercontinental University as a Business Major. Over the course of his career, he has participated in numerous group shows, many benefitting charity. His current projects are aimed toward community engagement, homeless veterans, raising funds for curable diseases.​
His art is mostly inspired by music and current events in life. The items used to create the art are reclaimed materials found anywhere around you. All materials used are of the highest quality and durable.​
"I like to think of my work similar to a favorite movie. As the story line develops there are parts that sparks joy, suspense, laughter. As I create I try to imagine what would make someone feel the same as I do."
Gallerist Carla Bisong: Owner of Bisong Art Gallery founded in 2012 located in downtown Houston Texas, in the Historic Warehouse District providing a platform for artists and art lovers to connect.