In Color: Art Exhibition (Location: Mont Art House)
April 30 @ 4:00 pm

-

7:00 pm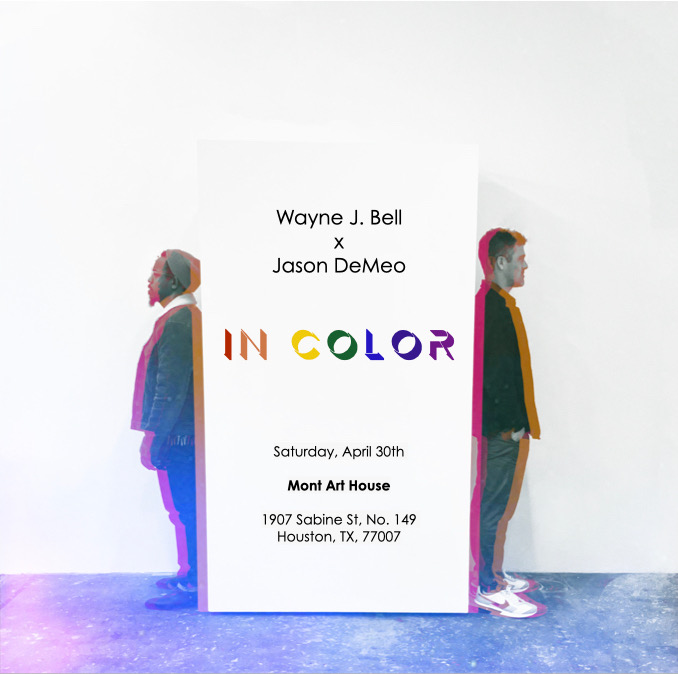 Show Statement: "IN COLOR"
The invention of color television was a monumental innovation. Instead of only seeing in black and white, viewers were given the opportunity to visually interact with the full spectrum of color, making the viewing experience infinitely more dynamic, nuanced, and filled with creative possibility. While our eyes have access to the full color spectrum, oftentimes our minds are still stuck in the binary of black and white. Without erasing the power, emotion, and contrast of black and white, this exhibition is an invitation to appreciate the depth that is found when we embrace the full spectrum of color. As you engage the work, we hope that it moves you beyond the binaries we so often embrace and into the nuance and depth that is waiting to be appreciated in each of us.
Artist Statement: JASON DEMEO
Jason DeMeo is a contemporary artist working out of Central Florida creating art that instigates transformation & connection. The work reflects his belief that matter is miraculous. Jason's greatest intention with his creativity is to manifest a world of artifacts, environments, and friendships that celebrate beauty, universal truth, and goodness.
Of Italian heritage and originally from Pittsburgh, Pennsylvania, Jason has always appreciated the beauty, serendipity, and surprise that comes with nature and its natural processes. Nature finds a way to create beauty out of the most mundane things…rusted bridges, faded shipping containers, decaying walls…not to mention the unlimited ways that it effortlessly produces art through the use of light, energy, and matter. These unexpected moments of beauty serve as source material for Jason's work.
He is exploring a concept that he has coined Synthesism™. It stems from the definition of the word synthesis: "the combining of often diverse elements into a coherent whole." You can see this theme of blending, combining, and remixing happening in many disciplines today, especially music, architecture, and even culture as we grow as a global community. Modernism constructs, Postmodernism deconstructs, Synthesism combines. Movements like Bauhaus and Black Mountain College have been instrumental in his thinking.
With a deep belief in the power of art to bring transformation to both spaces and people, he hopes that each one of his works serves as a meditation for the viewer, drawing them into the story and meaning of the piece, while simultaneously inviting them to create their own.
Artist Statement: WAYNE BELL
When describing his body of work, Wayne Bell calls the movement "Atmostpherism" because it defines what can be made from time and space; how things can be shifted, molded, and synchronized into climates unto themselves. Bell is a visual artist known for abstract expressionism with oil paint and unique knife-cut brushstrokes on canvas. His forms compel the viewer to recognize patterns within themselves, lending perspective with the saturation of color and light. The striations generated from the brushstrokes create gradients of hues.
Bell considers color the most important element in his work and utilizes oil because it, like the human condition, is alive, organic, and forgiving.
After growing up in Chicago, Bell spent his teenage years in Texas before attending Morehouse College. There, he earned a BA in Psychology and delved into other subjects like anatomy, physiology, and medical science. He spent the next ten years in Los Angeles honing his craft as a multi-faceted creative. Though never classically trained as a visual artist, Wayne has always obeyed the urge to create; from his early days building with Legos, to his current brush technique that now defines his practice. Bell now resides in Houston.
We die daily – Wayne Bell Jr.