Would-Be Doctor and Ex-Actor Wayne Bell Follows His Artist's Calling Down a Circuitous Path
Article by Chris Becker Dec. 8, 2021 | HoustonCityBook.com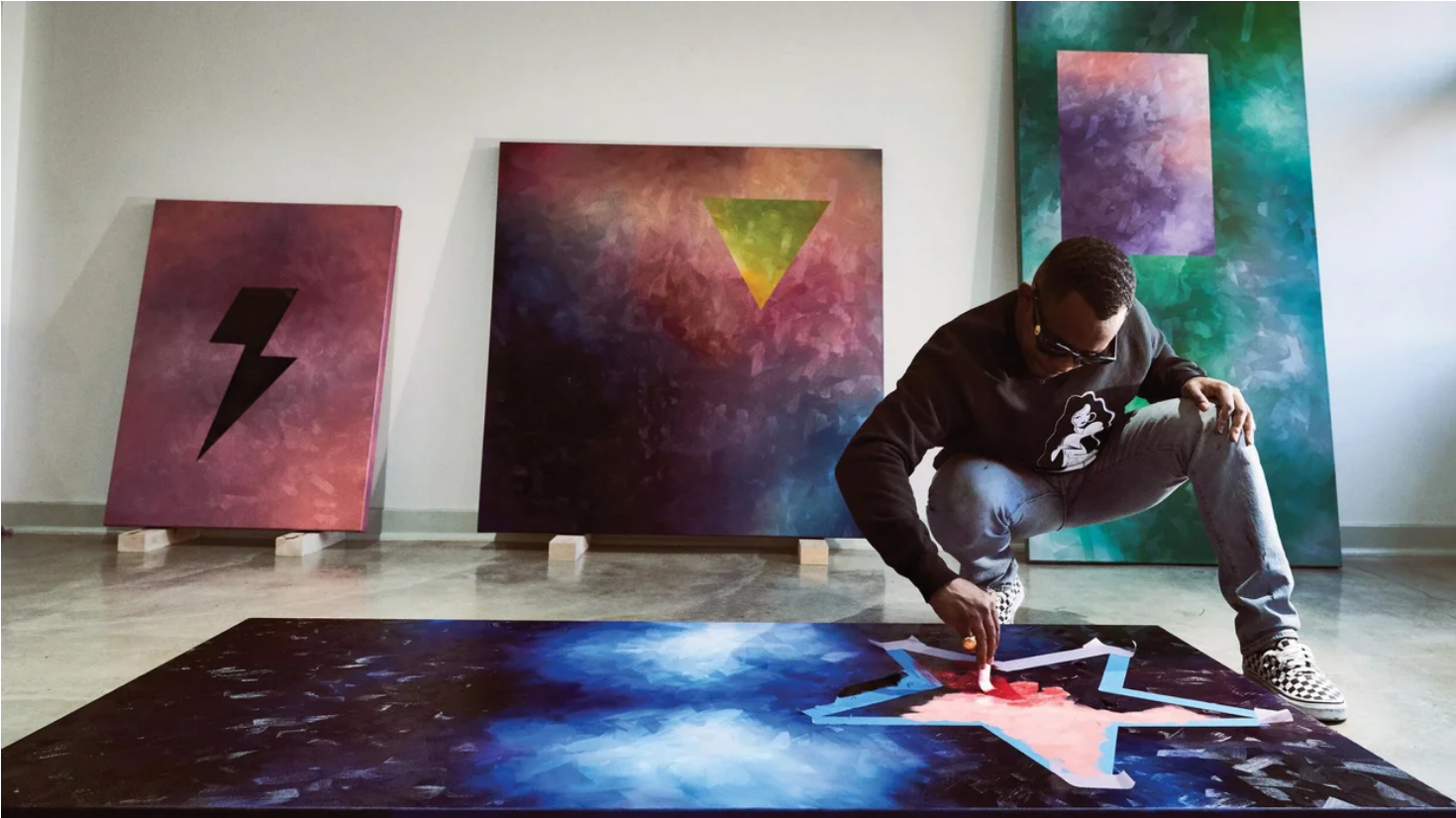 "ART IS LIKE love," says Houston artist Wayne Bell. "When you fall in love with people, you lose yourself in them. But you can also find yourself." For 36-year-old Bell, whose dramatic, abstract oil paintings, where gradations of rich, otherworldly colors give the viewer the sense they have stepped into an alternate universe, the path to self-discovery has been anything but straightforward. But art, and the impetus to "create and destroy and start over," has been with him since childhood, and never really left him alone, even as he pursued divergent goals.
"Originally, I wanted to be a doctor," says Bell, who studied at Morehouse College with plans to become an ob-gyn until he realized his passion for the creative wouldn't leave him be. Bell's mother Tommacina, whose many accomplishments include founding a children's outreach and performing arts program in inner-city Chicago, strongly encouraged her son's obsession with art. "I used to carry a little briefcase filled with art supplies," says Bell, who began drawing at age five, and recalls creating an art installation by covering his older sister with Legos.
Upon graduating from Morehouse, Bell relocated to Los Angeles to pursue a career in acting. It wasn't a completely crazy decision, given his formative experiences acting in plays at The Ensemble Theater and acro-dunking for various basketball teams. (Despite spending long hours hunched over his canvases, Bell maintains the physique of an athlete.)
But the call to make art persisted, and Bell found himself painting in between bartending and acting jobs until, upon seeing some of the art Bell was making, the grandmother of the girl he was dating at the time told her: "This young man has a gift. Tell him I said not to waste it." It was a pivotal moment for Bell, who made the decision to take the wheel, and channel his energies into painting. "I believe in God," says Bell. "I believe in a higher power and His purpose for us all. But I also believe, as carnal, human, physical creatures, we are in the driver's seat. Our life is our canvas."
Now in his third year back in Houston, Bell is represented by Bisong Art Gallery, the city's only black-female-owned gallery. His next show, Trapeze, opens Dec. 10 as part of a one-night-only black-tie fundraiser at the Lone Star Flight Museum and Hangar. Organized by Carla Bisong and sponsors, proceeds from ticket sales to Trapeze will go to benefit minority students pursuing a degree in fine arts.
For the show, Bell's paintings — some on canvas, others on mirrors — will be suspended above the attendees, transforming the interior of the museum into an aerodynamic cathedral, a place for self-contemplation and spiritual ascension.
In Bell's sunlit studio in Midtown, near a turntable and vinyl copies of The Best of Sade and Prince's spiritual and sensuous breakthrough album 1999, lies a well-worn copy of Mark Rothko's The Artist's Reality: Philosophies of Art, personally autographed by Rothko's son Christopher. Bell strongly connects with Rothko's work and appreciation for Rembrandt's emotive use of light, and is pleased his own paintings seem to also be making a long-lasting impression on viewers and collectors.
"I do believe my work is beautiful. But it's humbling to see people look at the work with such astonishment," says Bell. "Sometimes, I still can't believe I can make a living off of this."